Ukrinform: Rebecca Harms, a German politician who was a member of the European Parliament for 15 years – from 2004 to 2019 – was awarded the Medal of St. Vladimir the Great, the highest award of the UWC. The award was handed over during the annual general meeting of the Ukrainian World Congress, which ended on Sunday in Berlin.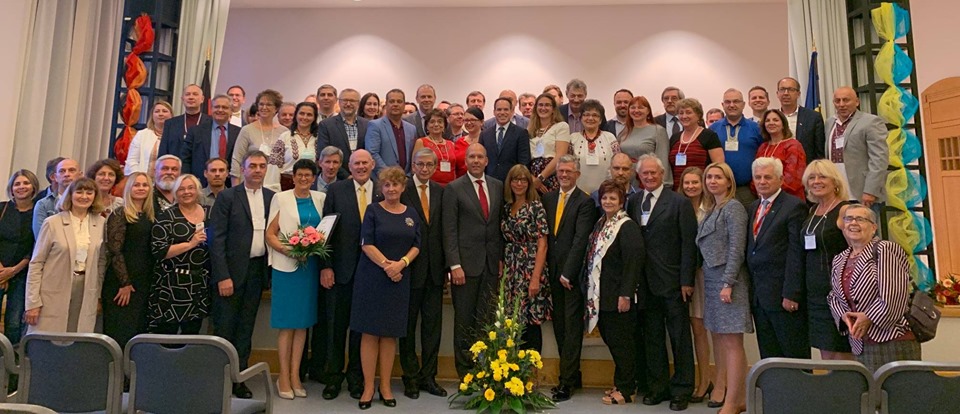 "Since its independence, Ukraine has experienced many ups and downs, but the common trend is going upwards: Ukraine will cope better and better, democracy is developing," said Harms, who started to travel to Ukraine back in 1988, as a representative of the Green Party.
She noted that she "would have been a friend of Ukraine under any circumstances", but Independence, the Orange Revolution, the regaining of Russian influence in the times of Yanukovych, Maidan, Donbas – all these experiences are so unique in its political life that she "just had no other way than to stand by Ukraine, to be together with Ukraine".
Among the participants of the meeting were Pavel Grod, President of the UWC; Stefan Romanov, First Vice-President; Anna Kisil, Second Vice-President; Andrey Futey, Third Vice-President; Mikhail Levko, Vice-President for Financial Affairs; Yuriy Gutsulyak, Vice-President for Development and Fundraising; Yaroslava Khortyani, Chairman of the European Congress of Ukraine; Pavlo Sadokha, Regional Vice-President of Northern, Southern and Western Europe.
Delegates and guests from 20 countries were taking part in the meeting. "Berlin welcomed 100 delegates and guests from 20 countries attending the Ukrainian World Congress Annual General Meeting being held September 6-8 in the German capital.", – reported on the WCU Facebook page.
Photo and Video: @RebHarms, @Ukrinform_News, @UWCongress